Protecting, Restoring & Enhancing Healthy Smiles for a Lifetime!
Below are explanations of the array of treatment options we offer at "Your Dental Home for a Lifetime." Our office has a variety of patient education materials written by the American Dental Association for those who would like to learn more about these treatment options. Our staff would be happy to answer all questions you might have concerning any of these treatments.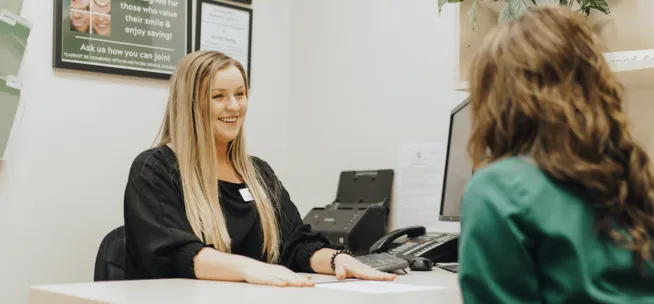 Prevention; It's key!
Your Prophy Appointment
The recommendation of the American Dental Association and our office's philosophy is the prevention of oral health diseases through having professional cleanings every 6 months. Even if you have just a few teeth, it's important for your overall health to keep these teeth as long as possible and through consistent cleanings this can occur. Your prophy will be performed by our experienced hygienist, Sherry Duhon, RDH.
Exams
An exam by a dentist is recommended to be done yearly. This assists the goal in preventing oral health problems before they occur. During an exam your dentist may be able to detect beginning stages of oral health problems that you may not be feeling the effects of quite yet. By catching these problems early, it can save patients additional treatment, time and inconvenient pain. Our office also offers Oral Cancer screenings.
X-Rays
This is a focused beam of X-ray particles through bone which produces an image on special film, showing the structure through which it passed. This gives the familiar black and white images that doctors and dentists use to diagnose problems. X-rays are a necessary part of the diagnostic process, and not to use them could lead to undiagnosed disease. Without an X-ray of the whole tooth, and supporting bone and gum tissues, there is no real way to detect infection or pathology that requires attention. In our office we use digital radiography which allows us to take X-rays using 50-70% less radiation versus conventional X-rays. Coupled with computer monitoring, digital x-ray technology allows us to enhance the images for better diagnosis of any dental concerns.
Non-Surgical Gum Treatments
The gums, ligaments and bone around the teeth form the foundation for ones teeth. All structures are also referred to as the periodontium. When the periodontium is not healthy, it jeopardizes the teeth just as a bad foundation would threaten the stability of a house. Signs of unhealthy periodontium (gum disease) may be as follows: gums that are red and bleed easily, persistent bad breath, gums that are pulled away from the tooth, loose teeth, and changes in the position or bite of the teeth. Any of these signs may mean something is wrong. With the proper care, however, it may be possible to return them to a healthy state. This is where appropriate gum treatments come in. If you're having a problem, come in and see us so we can take care of it right away. The treatment usually involves a deep cleaning or root planing done under a local anesthetic, along with local antibiotic agents. If the gum disease gets too severe it may need to be treated through surgery or extraction. This is why it is important to get it treated at the first sign of a problem.
Hygiene Products
BURST Toothbrush $50 - Available in colors Black or White!
Whiten & brighten with 33,000 sonic vibrations/minute delivering an incredible but gentle clean. BURST is shown to remove up to 10x more plaque* than a regular toothbrush. Do your gums bleed? BURST reduces gum bleeding (gingivitis) up to 3x more than a manual toothbrush. Tapered multi-length charcoal black bristles to remove plaque without damaging your gums. Use BURST for up to a month on a single charge.
Restoration; We want to help you SMILE again!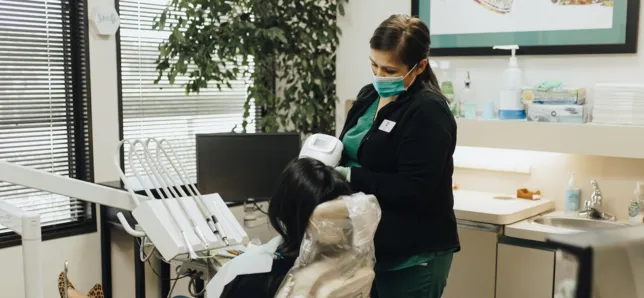 Fillings / Composites
This is the removal of decay from the tooth and the filling of the tooth with either composite (natural tooth color material) or amalgam. Fillings are done to remove decay, and replace the affected tooth structure. It is called a filling because new a material fills hole that decay left. Most teeth can be treated with bonded tooth colored composite resin fillings. Caught early enough, cavities can be treated easily and painlessly. If not treated decay can lead to tooth pain and/or infection, and the tooth would need root canal treatment or extraction.
Root Canal Treatment
Root canal treatment (also referred to as root canal therapy or endodontic therapy) is made necessary when a cavity has reached all the way to this pulp. Sometimes deep restorations or trauma to a tooth may cause the nerve to be damaged to the point it needs root canal therapy. Once this occurs the pulp becomes infected, and can even extend through the root tip and begin to eat away at the surrounding bone (this is an abscess). By the time the pulp is infected it must be treated, and cannot heal on its own. It can even weaken the entire immune system. This is dangerous, not to mention very painful. Symptoms that the pulp has become infected may include sensitivity to hot/cold or sweets, pain, swelling, pain to biting or pressure, and a bad taste in the mouth. However, sometimes no symptoms are apparent and the person is unaware of any problem until a checkup. A root canal is then performed to clean out the infected tooth pulp, and disinfect the canals of the tooth. Once the infection is resolved, the canal(s) are filled in to prevent any further infection. Usually a core build-up and crown is recommended for restoring a tooth that has had root canal therapy.
Crowns
Crowns are single teeth covers for your natural tooth in the event that too much of it is decayed or broken. They are most commonly done after root canal treatment, or when a large filling wears out. The larger the hole made by a cavity that has to be treated, the more likely a crown will be needed. Even after a filling is put in a large cavity, a tooth is more likely to break. Keep in mind that the jaw muscles are the strongest in the human body. Teeth are subjected to tremendous pressures. Crowns ride over the weakened tooth, providing strength and protecting the tooth against breakage. A broken or cracked tooth is a far more serious matter and much more difficult to treat. Crowns prevent this, as well as making for a nice smile.
It takes two appointments to restore a tooth with a crown. In the first any decay is removed from the tooth and it is shaped to accept the crown. Then an impression is made of the tooth for use in fabricating a crown. Between the two visits the crown is made, usually of high-strength porcelain over gold alloy, all ceramic material, or gold. During this time a temporary crown is worn. In the second visit this temporary is removed. Then the permanent crown is adjusted as needed and then cemented in place.
Bridges
This is an option for filling the space created by a missing tooth. It is formed to look like the missing tooth, and it takes its place in the mouth. The sides of a bridge use the two surrounding teeth for support, hence the name. A bridge replaces the missing tooth, both functionally and cosmetically. The materials used may be gold alloys, porcelain bonded to metal alloy, or all ceramic material. The choice of material depends on requirements for strength, wear, and/or esthetics.
It is important that a missing tooth be replaced as soon as possible for several reasons. If not treated the teeth surrounding the gap begin to shift inward, creating a chain reaction of issues. Teeth use their neighbors for support, therefore with one newly missing, teeth may begin to shift. As this worsens the bite changes which can eventually result in problems with the entire jaw, e.g. TMJ. This shifting can also cause the surrounding teeth to deteriate and they too can be lost. Gum disease can also become a serious problem, with the difficulty of treatment increasing as the neglect continues.
Dentures
This is the replacement for all teeth that are missing. Implants can be used as anchors to help secure dentures and improve overall satisfaction. There are different types of dentures, but they share their common function. They replace teeth that have become loose or been lost due to decay. No one enjoys losing their natural teeth, but with Dentures you can still eat and talk regularly.
The entire mouth is examined and a determination is made as to which teeth will have to be removed and which will remain. The loose teeth or nonrestorable are then extracted. Dentures are fitted to go over or around whatever teeth remain in the mouth, depending on the type. There is an adjustment period after dentures are placed in the mouth, and it can take some getting used to. But once accustomed to the dentures, all the normal functionality and appearance return and one just carries on as usual. Often implants can used to further stabilize the dentures.
Dental Implants
Implants are fixtures that are placed in the jaws to serve as anchors for individual teeth or to help hold in dentures. Implants can also be used to stabilize dentures to keep them from moving around in the mouth. Implant retained dentures literally "snap on" over the impants and are held firmly in place. A dental implant is also an option to replace a missing tooth. In this procedure, a small titanium shaft is surgically implanted into the bone and allowed to set. The bone grows around it forming a tight connection, which additionally slows or stops the bone loss that occurs when the root of a natural tooth is missing. Once the implant is firmly set in the mouth, the dentist then works to attach the replacement tooth onto the top of the shaft. This permanent solution has the advantages over bridge work that it does not stress the surrounding teeth for support, and, should the tooth wear out, another can simply be replaced on the shaft.
Implants can also be used as support as part of an implant bridge. This is an alternative to partial dentures, and has several advantages. First, there is no adjustment period to acclimatize the patient who, once the work is done, only feels teeth, not metal supports intruding into the mouth. Second, this slows the bone loss occasioned by missing teeth. Third, there is no discomfort or difficulty in eating. Best of all, they don't have to be taken out all the time.
TMJ Issues & Treatment
Do you have frequent headaches? Do you grind your teeth? Does your jaw pop or click? TMJ therapy appliance can take the pressure off your teeth, protect your smile. Through constant clenching or grinding, you can actually break your teeth and damage your jaw joint. TMJ stands for temporal-mandibular joint. Temporal, as in temple area of skull; mandibular as in mandible, or lower jaw; joint as in it's where the head and jaw meet. Problems in this joint may be caused by a misalignment of the teeth, trauma, or excess muscle tension. Aside from the two bones that meet there, cartilage buffers them and five muscles are involved in the area. If something goes wrong a good deal of trouble can result.
Problems in this area can cause: headaches, earaches, trouble/soreness in opening and closing the mouth, clicking or popping of the jaw, pain in the jaw muscles, soreness in the area, sometimes extending to the face. Dental treatments for the condition can include replacing missing teeth, moving teeth, adjusting the bite, filling gaps between teeth, etc. There is no one solution that is right for all cases. Sometimes a plastic mouth piece is used to prevent clenching or grinding that is contributing to the problem. If untreated and taken to extremes, surgery may be required to repair a badly damaged joint.
Bonding
Bonding involves adhering composite resin material that is matched to the color of the tooth, to the front of the tooth. This is done to repair damage done to the tooth by decay, to alter the alignment of the tooth, close gaps between the teeth, or for cosmetic purposes. First the surface of the tooth is roughened in order to accept the bonding and hold it. A gel is applied to micro etch the tooth surface, and a primer/bond agent is applied so the material adheres to the surface. Then the material itself is placed on the tooth and hardened with intense light. The composite resin material is shaped and polished to get a lustrous finish as a last step.
Sealants
This is used to fill in narrow grooves in a tooth that cannot be adequately cleaned by brushing. In some cases, the tooth structure has fine grooves or pits which accumulate plaque, not because the person doesn't brush, but because they're too narrow to allow even one bristle into them. These will develop cavities over time, and you don't want that. So the dentist will brush on a coating that seals the grooves and pits, making it possible to brush off all the plaque and keep your teeth healthy.
Cosmetic; Achieve the SMILE you've always wanted!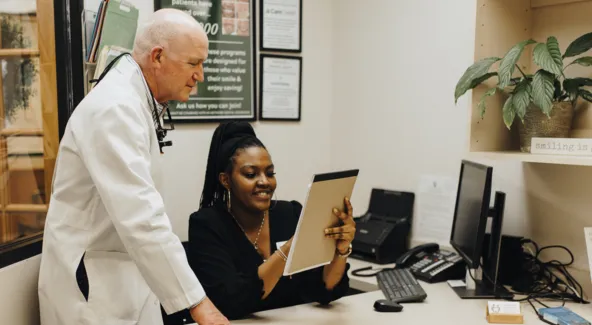 Whitening
This is the procedure of making teeth whiter, and therefore more attractive. Our team offers custom whitening trays and solutions based upon your desired brightness of your SMILE. The tray method involves having impressions taken from which laboratory fabricated custom vinyl trays are made. A carbamide peroxide gel is placed in these trays and the trays with gel are worn for about 3 hours, or overnight. The entire process takes 3-4 weeks of daily use. Three different strengths of gel may be used, however the higher the strength the greater the likelihood of reactions or tooth sensitivity. The tray method is recommended for badly stained teeth.
Veneers
Ready for instant and lasting whitening? Veneers are a dental procedure in which a covering is placed over the outside (visible area) of the tooth. Veneers are usually only done to the part of the teeth that are visible when talking or smiling. They will cover your natural teeth and will be the right shade for your complexion and the right length for your SMILE. The advantage of veneers versus crowns is that much less tooth material is removed, and the procedure is generally less uncomfortable. Veneers are recommended for teeth that have large fillings or little tooth structure. The procedure can be direct or indirect. The direct technique usually involves placing composite resin on the outside of the tooth using bonding. This method is usually referred to as bonding.
The indirect technique usually involves two appointments because the veneers will be fabricated at a dental laboratory. At the first appointment the teeth are prepared, impressions taken, and the teeth are given a temporary covering. In two to three weeks the veneers are back from the laboratory, the temporaries are removed and the veneers are bonded to the teeth. The laboratory fabricated veneers are usually made using porcelain or pressed ceramic, and are very esthetic.