"Your dental home for a lifetime!"
Welcome to Crockett Dental Care PLLC, Your Dentist in Crockett, TX
We love to help patients from ages 8 to 108 smile, whether that is through a simple professional teeth cleaning or full restoration of their mouth. Our team desires to bring our community the very best oral health care options in the most gentle and comforting environment possible. For over 55 years, "936-544-3554" has represented outstanding dental care for Houston County and surrounding areas. By using the most up to date technology and the latest techniques, we offer patients the best treatment options in their journey to oral wellness. Dr. Holcomb has been practicing dentistry since 1993 and began to take ownership of Crockett Dental Care in 1996.
Oral wellness may not be something you currently have for a variety of reasons, but we want to walk with you in your journey to smile again. Whether it's just needing a professional teeth cleaning and a dental home for regular exams and x-rays to fillings, crowns, bridges, or "4 in 1" method of implants and dentures, we are the dental home for you and your family.
We believe that dental anxiety and fear is a genuine reason some people do not receive care. Therefore, we offer Nitrous Oxide i.e. laughing gas to assure your dental experience is as pleasant as possible. We offer Nitrous Oxide for all of our procedures because your comfort is a priority for our team. We look forward to giving you and your family lots to smile about when you are at Crockett Dental Care. We are excited to serve you and to be "Your Dental Home for a Lifetime".
Dental Emergency or tooth ache?
If you are experiencing a dental emergency AFTER HOURS, we have the following options to contact Dr. Holcomb:
- Dr. Holcomb and his wife, Laura, welcome calls to their residence, 936-544-2386. If you have to leave a message, we recommend that you also email Dr. Holcomb in the event that neither him or Laura are home for the day.
- Email Dr. Holcomb at [email protected]. Please give your full name, date of birth, and phone numbers we can use to contact you. Also leave a brief description of what you are currently experiencing as well as your preferred pharmacy.
Where to find us!
Crockett Dental Care PLLC
1050 Loop 304 E Ste 120 Crockett, TX 75835
We are conveniently located on the first floor of the Midcoast Medical Center Building. Our office suite is located on the right hand side when you enter the building through our designated entrance. If you are entering the building through the main Medical Center entrance, our office is the second office suite on the left hand side upon entry.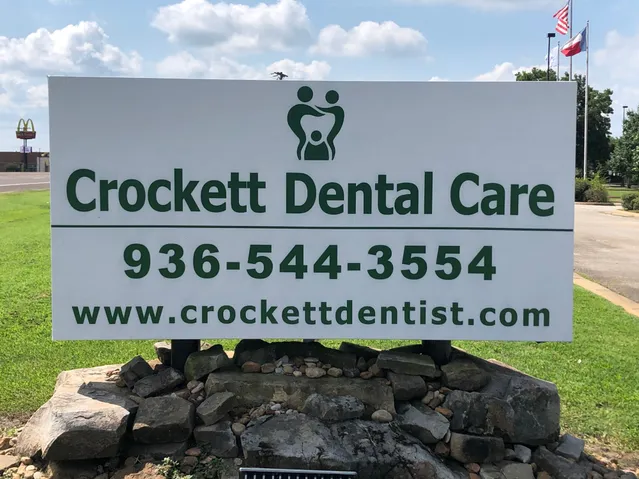 Office Hours
Monday - Thursday: 8:10 AM - 5:00 PM
Select Friday's: 8:10 AM - 2:00 PM
Saturday & Sunday: Closed
*Please verify that we are open during 12:00 PM - 1:00 PM should you want to come by during this time.

Appointments
We know you have many choices when choosing a Dentist so we have made requesting an appointment a simple process via our website. You are of course welcome to call or text us to request an appointment as well. If for any reason you cannot keep a scheduled appointment, or will be delayed, please call our office at 936-544-3554.